International History
History

This is the history of the brand International since the establishment of the company and up to the most modern of vehicles produced under this brand.
Classic Cars

We have collected the best classic cars in our catalogue. In addition, if you're going to buy one - just check the latest International listings.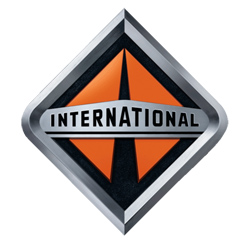 International
Today, International Harvester is known mainly for its trucks , and after some time in its production range and pickup trucks were - so what! However, now there is something - for the military.

International Harvester Company began its violent activity in 1902 after the merger of companies McCormick Harvesting Machine Company and Deering Harvester Company. By producing wheel-drive vehicles IHC moved only in the 40 's.

In pursuit of a military order in 1940 IHC presented its "bearer of arms ." The car was tested at the same time with the prototype T207 Chrysler Corporation . Like " krayslerovsky » Dodge WC, International M-1 -4 was established on the basis of a light commercial vehicle , and was a four-wheel drive pickup truck with an open cab and bucket seats form. The Army chose the Dodge, a International has got not so solid order the Navy and Marine Corps . Total for I94i-i943 's was purchased 231 pickup and 892 ambulances .

Externally, the M-1 -4 like his more successful rival . He was also provided with a simplified wings, flat grille with powerful protection , winch and could carry half a ton of cargo. Car is equipped with overhead valve inline six-cylinder gasoline engine cylinder capacity of 3.5 liters and 85 liters capacity . s. Without synchromesh gearbox was a four speed, and transfer case - two-stage .

In the same 1941 sailors demanded some changes to the design. In particular, since 3048 up to 3175 mm was enlarged base, displacement and engine power increased respectively to 3.8 liters and 93 LE, a version with a gable -tire rear axle . With increased load capacity up to one ton . Maximum speed was 72 km / h The car was now called M-2 -4 . Immediately it was released a few modifications , including artillery tractor with two transverse rows of seats in the back and missile launcher . From 1942 to 1944, Navy and Marines received a 9101 SUV International.

In addition , IHC during the war produced a medium -wheel-drive trucks wheel formula 4x4 and 6x6, as well as half-track armored personnel carriers . Some of them were sent to the USSR under Lend -Lease. However, about this technique will be discussed at another time.

After the end of hostilities IHC promptly produced a 5 -ton army truck all-terrain M54 (6x6), put into service in 1949. However, the civil -wheel-drive vehicles are not released until the first half of the '50s. Unless, of course , do not take some of the K-series trucks that have been converted to small firms such as ATVs Coleman. By the way , the design of this particular series has been borrowed for the Soviet ZIS -150 . Typically, these machines was either a base for snow blowers , or they were used as the chassis for construction equipment - such as cranes .

Factory -wheel-drive light trucks appeared only in 1953 , the same year with the debut of the series R. It was the International 110,120,140 and 160 full weight from 11 to 15 , ooo , ooo pounds. Equip them in-line six -cylinder overhead valve engine with the sonorous name Silver Diamond. The first version had a working volume of 3.6 liters and developed capacity oo l . s. at 3600 rev / min. The second , which is put on the heavier models had a working volume of 4.1 liters and 108 liters capacity . s. at 3600 rev / min. In the base transmission is not synchronized set , even though the four- rehskorostnuyu . Two-speed transfer box installed separately. However, for an extra fee you can get a synchromesh gearbox and brake servo .

R series lasted on the line is not long. To keep up with the competition in the face of the Big Three , International began to quickly update the design and construction of their trucks . Already in 1956 , a series S with a new front end and other changes . At the same time four-wheel drive pickup trucks came Sioo S120 and a half-ton payload . And in 1957, it is time to completely new Serie A with extended cab , where the steps , in accordance with the latest trends , moved inward.

In this front roof rack kept normal, and not the reverse slope , unlike GMC pickup and Ford. What was the right decision and allowed to let the cabin until 1979 in Australia. In the U.S., a successful cab pickups soldiered on until 1969. And in the medium and heavy truck series Loadstar she stood up to the second oil crisis in 1979 .

Feature models in 1957 has been a transition to 12- volt electrical system . In addition, there was a modification Travelette Double Cab and the version that runs on propane -butane gas mixture. And for those who like to travel as a family have made all-wheel drive wagon Travelall ( see 4x4 Club № z'2012 ) . A major step in the direction of comfort is the new three- synchronized transmission with shift on the steering column . Engine - the same six-cylinder "silver diamond" working volume of 3.6 liters and output of 112 hp . s. or displacement of 4.3 liters and output of 153 hp . s.

In 1958, the Serie A has changed slightly modified in the series with a new interior and a fashionable dual headlights that , in order to stand out from competitors and , to be honest, for reasons of layout , set vertically . But the B- series did not last long. Car fashion suddenly changed abruptly - aviastil , which were resolved models A and B, is out of date . Anxious not to be outdone , International in 1961, once again updated its family of pickups, running into mass production model of S. The main trump cards are its V- shaped "eight" working volume of 4.4 liters and output ( first) 155 liters. s. at 4400 rev / min , lockable rear differential , power steering and even air conditioning.

Initially, C- series came with chetyrehfarnoy lighting system. But in 1963 , seeking to cut costs , a front portion converted into a two lights . Then she was slightly changed twice - in 1965 and in 1967. Alas , just in 1967, Ford, GM and Chrysler have tightened dramatically and design, and comfort of its light trucks. And the power they had significantly higher. Trying to keep up with competitors , IHC in 1969 released the latest series D, decision in angular design , with a new and extended range of engines to suit all tastes . The most powerful engine Commanche displacement of 6.4 liters developed capacity of 250 liters. s. For a surcharge, the D series pickup could provide a mechanical lock system of the company Bendix, acting on the rear wheels . In 1971, instead of the lettering was introduced digital .

Unfortunately, linear design of a new generation of pickups International Americans did not like. Sales , rather than fly up , steadily declined. So much so, that in 1975 the model was sold only 6 thousand pickups. As a result, in April 1975, the former series D withdrew from the production . For some time , until the 1980 model year , was produced on the basis of pick- Terra SUV Scout elongated second model (see 4x4 Club № p'2011 ) . In size it was considerably less than the series D, and equip it to either the "quartet" (3.2 liters , 76 liters. F.) , or "eight" ( 5.0-5.65 liters 122-197 liters. With . ), And even diesel-powered Nissan ( 3.3 liter and 98 liters. sec. ) .

However, after the oil crisis in 1979 , as well as a grand strike that took place in the same year and stop the conveyor belt , the company recognized the International Harvester bankruptcy. Production of light vehicles has been minimized , and four years later finished the existence and separation of the production of combines and tractors. Revived in 1986, the company Navistar International has focused exclusively on the medium and heavy trucks. Including in the army . It would seem that in the history of all-wheel drive pickup trucks can close the books . However, this was not the end .

Revival lineup International Harvester

Suddenly , after nearly a decade and a half , International once again interested in light trucks . All-wheel drive pickup MXT-MV lit up for the first time in 2005 at the Chicago Auto Show . The cabin had borrowed an average of the series. In 2006-2007, the company has experienced a variety of prototypes , including the army . And as with the armor , and without it . In 2007 he was even prepared to manufacture the civilian version of the cost of some 120 million dollars. And this basic model . But, do not get enough orders ( wonder why?) , Managers Navistar stopped at the military versions. Army they offer MXT-MV, armored MXT-MVA and the MXT-MVA IS with reinforced suspension, frame and armor.

All machines installed six-liter turbo diesel engine with electronic direct fuel injection MaxForce D/VT-365V8. Power - 300-340 liters. s. at 3000 rev / min. Torque - 715-892 Nm at 1300-2000 r / min. Gear change box - a five-speed automatic firm Allison. The weight is respectively 4756 , 6931 and 9288 kg . Suspension is fully dependent spring . However, the version of the MXT-MVA IS on request can complete pneumatic independent suspension on all wheels. Hydraulic disc brakes on all four wheels with ABS.

Reinforced version and is protected by mines . To do this, it added a triangular head , a blast wave in a discharge side. The crew - three men in the case of the two-door cab and five in the case of the four-door cab . Base - 3835 and 4267 mm, length - 5969-6400 mm , width - 2311 mm , height - 2438 mm . Load capacity - from 2265 to 3850 kg, depending on the version .

SUVs , pickups MXT series was intended as a replacement is not quite suitable for counterinsurgency HMMWV. Alas, as large orders for armored and on the regular version was not followed. The Ministry of Defense has decided to resign the good old HMMWV is not send . But the armored version of the MXT-MVA Husky lucky. This car went on a limited British Army . And most of the ordered vehicles went to fight with the Taliban in Afghanistan .
Latest classic International cars offered in listings: