Borgward Cars History
History

This is the history of the brand Borgward since the establishment of the company and up to the most modern of vehicles produced under this brand.
Classic Cars

We have collected the best classic cars in our catalogue. In addition, if you're going to buy one - just check the latest Borgward listings.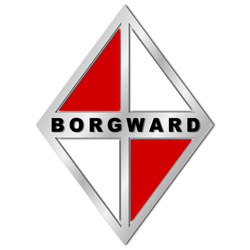 Borgward
Carl Borgvard was born November 10, 1890 , near Hamburg in the family coal merchant , who just struggled with poverty. He was the youngest of 12 children. Charles met for the first time with the wheels when he saw his father wagon pulled by horses.

1900 Carl spent all his free time after school , to repair a variety of mechanical devices . He was repairing old watches , sewing machines and other similar items. He also liked to cut wood various models .

In 1912 about 10 years Borgvard Carl worked as an assistant engineer in the company Mencke and Hambrock of Altona which was engaged in the development and production of machines. After passing the final exam in school, he moved to Hannover and became a student at the Technical High School. Simultaneously , he earned a living by working in the office of the company for the production of steel.

In July 1912 , Karl moved to Bremen, where he first began to work seriously as an engineer in the company and Schellhass Druckenmuller, which is also engaged in the production of steel. In 1914 , he moved to Berlin , he began working as an engineer and received a salary high enough for his age.

In 1915, Charles was drafted into the German army , and during the First World War, he was seriously wounded. Having spent many months in a military hospital , even before the war , was discharged .

Then, finding a new job in Bremen, in manufakturschika Franke, who was involved in textiles , Carl Borgvard traveled across Germany to provide service. Over time, he headed the technical department of the company.

In 1919, Charles became a partner of Ernst Berolda , a merchant who was involved in the sale of tires , the company Bremer Reifen Industrie.

This relatively small factory engaged in the manufacture of various products , mainly agricultural machines such as bean harvester (a machine for harvesting beans ), some of which were exported .

This business consisted of a very controversial operations , so Carl Borgvard soon replaced by field of activity. He and 20 workers have been producing new parts for the automotive industry. The war led to a strong demand for replacement parts, such as radiators and car fenders .

1920 . The company Hansa-Lloyd, which was located in the same area of Bremen, engaged in the production of cars and trucks of 1905-1906 . They soon noticed the high activity of Carla, and over the years it became the most important sub-contractors.

In 1921, Carl has hired 60 employees, becoming the sole owner of the company renamed it the Bremer Kuhlerfabrik Borgward & Co. Radiators V-Type were the main products of the company.

Carl first dreamed of , and then began planning to build your own car. Frederick Kaynest became the right hand of Charles in the planning and design of the machine , and together they created a small open car, with a cylinder water-cooled , two-stroke engine of DKW.

In 1922, a factory for the production of radiators moved to larger premises in Bremen. The problem of space to create future cars has been resolved.

In 1924, a simple three-wheeled machine, belt- driven rear engine 20ls brand DKW, was quietly made ​​in 6 days. Title Blitzkarren's ( machine - lightning) , it is not meant that it was moving very quickly, and weighs 250 kg .

At first it was used only in its own factory Borgward, then mostly sold to small traders , who could afford to pay for it 980 Reichsmark , not 5000 for cars such as the Opel and DKW.

In 1924 . 25 ILO engine began to be used in place of the engine brand DKW. Initially sales skillfully executed engine was very weak . Karl showed them outside Bremen. Old friends were trying to sell their products and Hamburg and Hanover.

Garages , needed more in the conviction than in the testimony of technical parameters. In July 1924 . finished work on the car brand Blitzkarren No. 100 .

In 1925 . Teklenborg William , who came from a wealthy shipbuilding and shipping company Norddeutsche Lloyd, seeing the potential Blitzkarren became a partner in the company Borgward.

At the end of 1925 there was a three-wheeled car brand Goliath Rapid successful modification of the model Blitzkarren. Its feature was the reverse gear and starter clutch. Payload which could carry the car was 500 - 600kg .

In 1928 . Car Rapids and Goliath was released about a thousand copies . The new company , renamed the Goliath-Werke Borgward & Co, with 300 workers moved into a new larger facility , formerly a company Gaertner. The building is directly opposite the Borgward company Hansa-Lloyd Works.
Latest classic Borgward cars offered in listings: