Cord History
History

This is the history of the brand Cord since the establishment of the company and up to the most modern of vehicles produced under this brand.
Classic Cars

We have collected the best classic cars in our catalogue. In addition, if you're going to buy one - just check the latest Cord listings.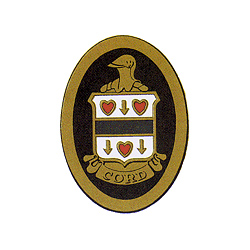 Cord
It all started in 1924 when a young Byuriga miserably kicked out of Bradley Polytechnic Institute, as the subjects he was not interested, but only to draw in all the notebooks of cars. He was not upset, and on the contrary, it seemed that this incident only gave his forces already unprecedented enthusiasm. For five years, he went through a lot of jobs, engaging and wooden frames on Gotfredson Body Co. or simply by drawing a body for Jewett and Peerless. In 1928 he was hit by a set of Harley Earl had just created the world's first industrial design studio - Art & Color Section. However, after a twenty-five-year Byurig leaving to become the chief designer of the eminent Duesenberg.



Formally, the "main" it was not because he was the only one. But in fact, everything was just so. He decides everything. Gordon took to create a new style strategy. Before his arrival the exterior of vehicles Duesenberg was formed as follows: any person from the management or engineering staff as he could scribbling on a piece of paper side silhouette of the body. At best, it was a drawing in scale 1:16, which was broadcast repairers firms Murphy, LeBaron - there were many. Having a sketch and a "live" chassis with wings wheels, running boards, grille, hood and headlights, repairers taken for construction. Naturally, each firm left his "signature" - a pair of three characteristic features and details on which handwriting is recognizable brand of bodywork studio. More - more. Often the body, made for Duesenberg, repeated and mounted on a chassis, for example, Lincoln, introducing customer stylish "dyuzi" perplexing, because the chassis from Ford priori cost half the price of the chassis Duesenberg. Since losing customers, and continue on it could not.



And Byuriga taken to combat this evil tradition. He was required to create a unique and extraordinary body on which a first recognizable Duesenberg, and no body studio LeBaron. It's been three years of the reign of artistic genius Byuriga which redrew half of all issued in those years Duesenberg Model J and SJ. As a result, he was just tired. Tired of the "catching" nuances that teetered on the brink of a graceful, which distinguishes the true art of pretentious kitsch, but somehow he just could not ... He even developed a technology involving sketching pictures, which delivered them from the same monotone paint the wheels and chassis, and to help him take the engineer and stylist. But Byurig back to Earl. Back in time. At this time, the great strategist style did his best to first find the future. For this, he has announced a contest in his studio. According to contemporaries Byurig won, according to the official results of its offer to take the last place. Thus was born the idea of ​​it, then became a fixed idea: the idea of ​​a new architecture of the car without serving traditional and dominant in the composition of the vertical radiator grille and even without any eye headlights! Car without a "person"? This can not be and never will be - nervous Earl. Five years later, when Byurig already embody the idea in Cord 810, Earl indirectly acknowledges that got excited and create an ideologically similar architecture concept Buick Y-Job, which will predict the post-war world style.



Gordon Miller Byurig owned a key to the future much earlier. In May 1934, he patented his idea. A year later, she was brought to the metal by Cord and was once patented. Curiously, when Byuriga first asked what his idea was manifested most vividly, he referred to the banal addiction k .. purity. After all, no one likes to wipe and clean the engine, most of which fell in the mud, according to Gordon, a giant radiator. More than that, he never repeated, and developed the idea of ​​the integrity of the shape and surface overflow. Of course! Otherwise, where would undertake a horizontal grille, side turning into the Louvre and net sidewall without accented overhead window sill molding lines, fuel filler neck, finally? All this was done for the first time in the world, and the emergence of a production car was a shock. In the showrooms on Cord 810 families went to look like a circus or a movie. But buying a car sluggish, hood called "coffin lid" and did not believe that the retractable headlights will be trouble-free. As a result, before the war Cord was forced to sell the remaining unsold and body parts - so there were cloned «freaks»: Graham Hollywood and Hupmobile Skylark. In 1951, the New York Museum of Modern Art called eight cars of all time. As a result, the exhibition hall next to the Cisitalia 202 of Pininfarina forever frozen and Cord 810 from Gordon Miller Byuriga. He calmed down and more of these ideas did not push. In 1956 he created the pompous Lincoln Mark II, at 65 retired and told the students about the beautiful cars, wrote a book in 1990 and died ...




In autumn 1935 at auto shows in New York, Chicago and Los Angeles, a new car brand Cord bombshell. This modern car, with a lot of the latest technical developments and, most importantly, with none of the futuristic design of exhibition visitors have seen. Dealers received 7639 applications from those who want to buy in the near future this latest model. Here it is - a real success. Glory and financial well-being of the Empire Errett Lobban Korda.



In fact, things were not so good. From August to October 1935 instead of the required 100 copies of the new model, almost hand-harvested only a dozen. Machine completely raw, with a mass of flaws and problems. Summary - overheating the transmission. At the auto show car brought with broken transmissions.
Cord 810 was a brand new development of the company and the previous model L-29 they have in common only the presence of a forward drive. And there was a bit of similarity. Cord L-29 was a very long line eight-cylinder engine, which together with the transmission located well behind the front axle. 810 was put on the new V8 Lycoming, which was half as long, with the gearbox partially disposed in front of the front axle. This design provides a much better weight distribution and has reduced the wheelbase to 125 inches (3175 mm).



In 1936 Cord 810 had the following technical and aesthetic innovations that are unavailable on any other car:

- Integrated into the back of the front part of the frame with an independent front suspension transverse springs. The use of front wheel drive has significantly (more than 250 mm compared to conventional cars) to lower the floor and thus refuse footboards.

- Electric predselektor Bendix ruled transmission. To select the required transmission was enough to tip of your finger to move the small lever mounted on the steering column.

- The unusual design of the car bonnet allowed to refuse a pronounced grille, typical for this time, replacing it with the horizontal vent louvers, calling on the sidewalls of the engine compartment.

- Huge pontoon front fenders are with inbuilt lights, mechanically removed from the driver's seat.

- The doors were hung on concealed hinges.

- Rear lights and filler cap are flush with the trunk lid and rear quarter panel. The fastening element plate lamp was lighting.



Equipped with a V8 Lycoming engine of 4730 cm3, developing power 125 horsepower, Cord 810 was able to move with a maximum speed of 90 miles per hour (145 km / h), acceleration to 100 km / h in 20 seconds. Models equipped with a centrifugal supercharger Schwitzer-Cummins developed the capacity do190 horsepower, reaching a top speed of 110 miles per hour (177 km / h) and acceleration up to a hundred in 11 seconds, making them one of the fastest cars of pre-war America.
Design of the car was designed by Gordon Berigom (Gordon Buehrig), which helped Kosper Dale (Dale Cosper), Dick Robertson (Dick Robertson), and Paul Lorenzen (Paul Laurenzen). The amount of chromium was minimized and it was only on the bumpers, wheel caps, windshield frame, handles and moldings ventilation grilles. Futuristic retractable headlights and polished dashboard "airplane" style with round instruments and aircraft dials complement unusual project.



In 1936 Cord 810 was offered in four body styles - four-door sedans Westchester and Beverly, differing primarily only interior trim, two-door four-seater convertible roadster Double Phaeton and Sportsman. This year it was built only 1,174 cars, and in the early 1937 model got a new name - Cord 812.



Having a huge number of orders at the end of 1935, EL Cord faced with the problem of unavailability of complete plants for the production of the new model. Besides the technical shortcomings prepared for exhibitions samples were numerous: chronic overheating and noise in the gear box, the noise in the joints of the front drive, body flow in the rain, and others. Eradication and the establishment of mass production took away a lot of time, which is why most of the orders received were canceled.



In 1937, to raise the level of sales, Cordes suggested installing superchargers to increase engine power by 45 - 65 hp. Chrome exhaust pipes installed these cars (Cord 812 SC) allowed to lower the temperature in the engine compartment and is easy to distinguish them from the car without compressors. Was also offered a series of registered Berline, with increased up to 132 inches (3353 mm) wheelbase. Unfortunately, all of these suggestions and improvements come too late, and after the Great Depression of the few sought to acquire one of the most expensive cars on the market. By making a total of 2,907 vehicles (1629 - Cord 810 and 1278-Cord 812), the company ceased production.
Latest classic Cord cars offered in listings: