Daimler History
History

This is the history of the brand Daimler since the establishment of the company and up to the most modern of vehicles produced under this brand.
Classic Cars

We have collected the best classic cars in our catalogue. In addition, if you're going to buy one - just check the latest Daimler listings.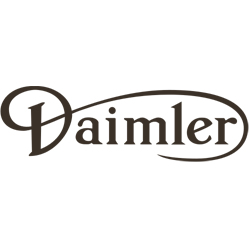 Daimler
Daimler - c 1896 British car brand, owned by the company Daimler Motor Company, specializing in manufacturing of exclusive and official cars. The headquarters is located in Coventry.



One of the oldest automobile companies of the world. Its history began with the purchase in 1891 Frederick Simmsom the Gottlieb Daimler patent for its production of gasoline engines. - Beginning of production of cars belong to 1896.



Since 1900, when his first Daimler acquired the Prince of Wales (the future king Edward VII) and up to 50-ies, the company maintained a status of a supplier of vehicles to the Royal court, even though the last of the В«DaymlerovВ» was made somewhat earlier to George VI.



In 1960 В«DaimlerВ» fell under the control of the company В«JaguarВ», and a few years later, together with her became a part of the concern В«British LeylandВ» (British Leyland). Since that time he has started the production of models, unified models В«Jaguar, losing its independence. Exceptions steel sports double SP-250 with the 2.5-liter V8 engine (1961-1964 she) and Executive limousine DS-420 with in-line six-cylinder 4.2-liter engine capacity of 167 HP. (1968-1992). DS-420 you can still be found near Buckingham Palace or the residences of the top leaders of the UK. In 1990 В«DaimlerВ» together with the company В«JaguarВ» became a part of American automobile concern Ford Motor company (Ford). In 1992 had been removed from the production of the last of its own design company - DS-420, and she switched on the issue of the В«JaguarВ» superior under the brand name В«DaimlerВ». C 2006 model range of the company consisted of only one model - Daimler Super Eight.



At the auctions are sold mainly model-analogues Jaguar at the same prices. Find a limo Daimler quite difficult, in view of its exclusivity. Model Super Eight sell for at least 13-15 thousand pounds.

Daimler cars, presented in our catalogue:
Latest classic Daimler cars offered in listings: