Franklin Cars History
History

This is the history of the brand Franklin since the establishment of the company and up to the most modern of vehicles produced under this brand.
Classic Cars

We have collected the best classic cars in our catalogue. In addition, if you're going to buy one - just check the latest Franklin listings.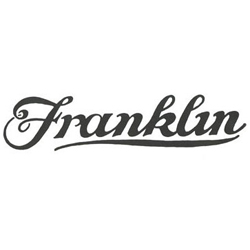 Franklin
Herbert Franklin, the owner of a prosperous enterprise , produces injection molded , in 1901, he met with John Wilkinson, who designed the air-cooled engine and decided to specialize in the production of cars with such engines. The first machines "Franklin" is equipped with 4 -cylinder overhead valve engine. In 1905, the program has expanded to models with 6 - cylinder engines , with seven main bearings crankshaft. In 1907 "Franklin" introduced automatic control ignition timing , and since 1912, all of its models were equipped with pressure lubrication . Cars have acquired a distinctive rounded hood, nicknamed "the crocodile snout " because of the unusual radiator.

With only 1928 cars "Franklin" were equipped with a steel frame instead of wood , but the demand for these cars has steadily declined . To keep sales plunge , "Franklin" introduced in the program and more new models, but in 1931, sales amounted to only 2,850 copies, that is, only a quarter sold in 1926. In 1932, Franklin presented a model of "V12", reached a speed of 153 km / h, but its price was so high that it is not allowed to rely on good demand . The last "Franklin" in 1935 became inexpensive "Olympic" with a traditional 6-cylinder air-cooled engine . All of its mechanical components , except the engine , manufactured firm "REO".
Latest classic Franklin cars offered in listings: