Humber History
History

This is the history of the brand Humber since the establishment of the company and up to the most modern of vehicles produced under this brand.
Classic Cars

We have collected the best classic cars in our catalogue. In addition, if you're going to buy one - just check the latest Humber listings.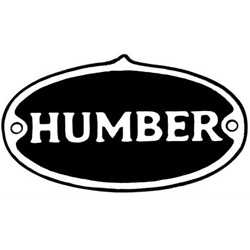 Humber
In 1868, Thomas Humber founded in Coventry factory bike, where he later began to collect cars. It was the three-wheeled vehicle, known as Vuatyuret. Later, they were four-wheel vehicles. Despite the fact that the outer form of the pre-war machines "Humber" looked conservative in terms of the mechanics were very modern. In 1936, the six-cylinder models had a front wheel independent suspension, and in 1939, most of the models of the Humber had hydraulic brakes. This year, there was a model Humber Super Snipe, which was made during the war for the British armed forces. Cars appeared on the market as a limousine, a convertible and a spacious model with a wooden station wagon. Fan car "Humber" was Field Marshal Montgomery, who moved his "old faithful" from North Africa to Germany. It was an open Humber, with a special body from "Trapp End Meyberli." A particular focus of the company, "Humber" in time of war was the release of all-wheel drive all-terrain vehicles with four-liter engine model Super Snipe.


Model Super Snipe was revived after the war, along with the model Hawk, which had a 1.9-liter engine, borrowed from the model Hillman-14 1939 release.
The post-war cars of "Humber" were of the same excellent quality as the pre-war cars. Among them was a big limousine, known as the Pullman, designed for those who have had a chauffeur. But even conventional models were luxurious. For example, since 1947, with the help of "Heath Master Voice" in the cars can be fitted shestilampovy radio. The first substantial improvements were made in 1948, when the model Hawk and Super Snipe were fitted with new bodies. In 1952, the magazine devoted to cars, discussed the upper valve and a mechanical innovation has been made in the new engine model Super Snipe, which had a working volume of 4139 cm3 at a power of 114 hp. s. In addition, for the first time the first transmission was equipped with a synchronizer that significantly facilitated the changeover. On the model of Hawk overhead valve engine was installed only in 1954. After that, the engine power increased from 59 to 71 liters. s. under the same working volume of 2267 cm3 four cylinders.


Many high-end cars for a long time been able to part with a separate chassis. This continued until the 1957 model year Humber Hawk with a simple and easy design. Body had no resemblance to its predecessors and was equipped with a panoramic front and rear windows, could accommodate six people and luggage, as well as having a lower roof line, which gave it a more sporty look. This Hawke could also be ordered with a glass partition between the front and rear seats. Regardless of the former engine capacity 2267 cm3, power has risen to 74 liters. s. at 4400 rev / min. With a weight of 1427 kg car a top speed of 145 km / h In 1958 at the London Motor Show was shown the new model Super Snipe with the same body as that of the model Hawk. It featured an abundance of chrome on the grille and other power unit.


The six-cylinder engine now had a working volume of 2651 cm3 and a power of 114 hp. s. at 5000 rev / min. Buyers have a choice of three transmissions: the three-stage with manual switching, three-stage with manual with overdrive and automatic. With a weight of 1470 kg model could not be classified as "light" and the station wagon she weighed as much as 1519 kg.


The company "Humber" constantly fine-tuned Super Snipe, and at the London Motor Show in 1959, she already had a six-cylinder engine displacement of 2965 cm3 and a power of 131 hp. s. A year later, in the car were two fashionable pair of headlights.


In February 1963 there was a cheaper car Humber - Stsepter model. Rute brothers worked not only on the "Humber", but also on the company "Hillman", "Singer" and "Sunbeam". The new model Stsepter actually was a model of Hillman Super Minx with two pairs of headlights and grille on the model Sunbeam Reypir. As the model Hillman, four-cylinder engine had a displacement 1592 cm3 but triple carburettors and a higher compression ratio will increase capacity from 62 to 87 liters. s. Transmission with manual shift now had a four-speed transmission with overdrive and electrical closing. The front wheels are equipped with disc brakes.
In 1965, "Humber" has released another high-end car. It was the Imperial with a body like a model Hawk and Super Snipe. This car was produced only the sedan, but want to install a glass partition for those who have had a chauffeur.


After the company "Chrysler" annexed "Rute corpse" for "Humber" fallen on hard times. Were lost export opportunities, and the cars were produced only with the right steering, and when the British lost interest in large machines, their production ceased. Until 1967, it was allowed to continue production models only Stsepter then "Chrysler" has decided to close the plant of "Humber", so that from now on the market appeared only used cars Humber.
Latest classic Humber cars offered in listings: