Crosley History
History

This is the history of the brand Crosley since the establishment of the company and up to the most modern of vehicles produced under this brand.
Classic Cars

We have collected the best classic cars in our catalogue. In addition, if you're going to buy one - just check the latest Crosley listings.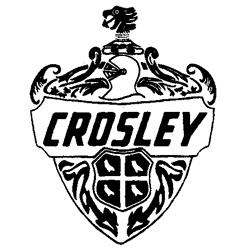 Crosley
The story begins Crosley car brand in America. Crosley Company was a car manufacturer based Crosley Corporation and later Crosley Motors Incorporated in the United States from 1939 to 1952. (Not to be confused with the company Crossley, based Crossley Motors, England)



The entrepreneur shall command Crosley Jr. of Ohio, the owner of Crosley Broadcasting Corporation and the Cincinnati Reds baseball team had grandiose plans to construct a compact car and assembly plants in Richmond.



In May 1939, the show Indianapolis Speedway was presented their first car. It was a two-door convertible, which weighed 450kg and sold for $ 250. It was not an instant success, but it had begun.



Car chassis was with a base length of 203cm, semi-elliptic leaf springs with a continuous front axle and a quarter elliptic at the rear. Two-cylinder engine of the brand Waukesha air-cooled, which had a blade as part of the flywheel. The engine was connected to a three-speed transmission and then drove straight pipe drive shaft to the rear axle vehicle, thus removing the need for a connecting plate.



In 1941. body clearance was extended to two and four-seater convertible, coupe - cabriolet car station wagon, cargo van, pickup truck.



Also, two new brands Parkway Delivery (without a roof over the front seat) and pick-up convertible with a retractable rear seat Covered Wagon.



During World War II model of Crosley became popular because of the rationing of gasoline and a good run in miles (50 miles to the gallon, 5 l/100 km).



Crosley was the last company that has suspended production of civilian vehicles in 1942., Thus allowing buyers to purchase as many machines Crosley, providing state support to save fuel consumption.



Production of civilian vehicles resumed in 1945. Mark Crosley Hot Shot was the first post-war sports car in America, presented in 1949. Also, in 1949. Crosley was the first company in America who converted the entire line of products on the disc brakes.



1948 was the best year for car sales with a score of 24,871 units. In 1949, sales began to decline, and even brand new Crosley Hot shot with ranch jeep in 1950 could not stop the decline.



In 1952, only 1,522 were sold cars Crosley. In the same year, production stopped and the plant was sold to General Tire and Rubber Company.



In 1950, the brand Crosley Hot shot won first place in the race Sebring.
Photo car 1951 Crosley Hot Shot
The new engine Waukesha Model 150 Cub Twin, 580 cc / cc, air-cooled L-head was opposed to the two-cylinder engine, created by Engines of Waukesha, Wisconsin, and was used in the period from 1939 to 1942.



In 1946, he was replaced by CoBra (from "Copper Brazed"), 721 cc / cm. This engine was in turn replaced in 1949 by a new and reliable engine CIBA (Crosley Cast Iron Block Assembly).



Engine CoBra (Copper Brazed better known as "The Mighty Tin") was developed by Lloyd Tylor, Taylor Engines in California for military use abroad on the PT boats and B-17 Flying Fortress bombers.



The engine was made larger than the sheet steel from cast iron, such as other engines. This was done in order to achieve thin, uniform thickness, and thus to avoid the creation of hot spots around the combustion chamber, which can ignite the fuel, causing prelaunch (knocking).



Prior to 1946 the engine was not designed for use in cars. The engine was light weight, the unit weighs only 6.7 kg, 60 kg of automotive accessories. Engine power is 26ls



CIBA (Crosley Cast Iron Block Assembly) was more traditional and reliable engine of a cast iron block. When Crosley Motors, Inc. was sold, the engine was renamed AeroJet and production continued. Issue AeroJet ended in 1955. and the right engine was sold to Fageol.
Latest classic Crosley cars offered in listings: