Commer Cars History
History

This is the history of the brand Commer since the establishment of the company and up to the most modern of vehicles produced under this brand.
Classic Cars

We have collected the best classic cars in our catalogue. In addition, if you're going to buy one - just check the latest Commer listings in the United Kingdom.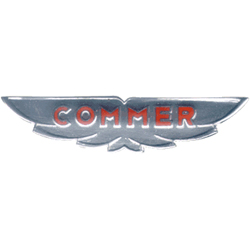 Commer
The birth of the truck "Commer" was not quite normal: the first car of this brand was built "around" the transmission. Engineer Lindley in the first years of the XX century, developed the original planetary gearbox with the correct pre-selection stage of a lever on the steering column. Fast and almost silent switching occurs when you press the clutch pedal. In 1905, in a small studio in London's Lavenderhill experienced such a box in action, setting it on a sturdy frame with wheels and a simple motor. After a successful trial was the first car built and established firm Commercial Cars Ltd. Reduction of the first word and it became the brand name "Commer" - one of the most famous in the UK.

To expand production in 1906, the firm moved to Luton and the following year launched a production range of machines with capacity from 1 to 6 tons Among the first was a 2 -ton truck model "RC" in-line 4- cylinder engine , which consisted of two blocks , and developing 32 hp at 900 rev / min. In 1907, he won a silver medal at the British mileage trucks , paving his way to the market. In 1912, during the run -Russian "Commer" was the only representative of Albion , putting three cars carrying capacity of 2, 3 and 4 m (models "WP2", "RCW" and " CLO " ) . They all seemed copies of each other , differing only in size , power 32-40 hp motors , 3 - or 5- speed gearbox. Cars have developed speed of 35 ~ 40 km / h During the First World War, "Commer" produced more than three thousand trucks a popular series "RC".

After the war, a general decline in the British economy started the "Commer" in the strip of financial difficulties . In 1926, it took the company " Humber " (Number), which created together with the companies "Commer" and "Hillman" based automotive group "Rootes" (Rootes Group). Not a bad financial base also produced a few light models , including the van carrying capacity of 500 kg on the basis of the car , " Hillman Minx " (Minx) with aluminum body , bearing the mark "Commer" . Then manufacture bonnet received series "G2", "G3" and "G4" payload 2, 3 and 4 , the S1932 that new 1.5 -ton machine called Raider, a 2 -ton - "Centaur". Lightweight model "GL4" offered in the bonnet and sweaty infinite variations, and in 1934 , "Centaur" was the cab -over-engine . On most models used a 6- cylinder gasoline engines , " Humber " ( 3.1-3.5 l, 60-105 hp) and manual 4-speed transmission. V1934 , the concern "Rootes" bought another truck manufacturer - the company "Karrier".

In 1935, the "Commer" has released a series of successful chassis bonnet "N" to install the Platform and box capacity from 400 kg to 5 tons eve of the Second World War, it became a well-known family of "Q" or "Superpoise", which consisted initially of five models with capacities from 1.5 to 6 tons during the war , and on-board model tractors " Superpoyz " carrying capacity from 750 kg to 3 t (models "Q15" to "Q4") received in the British army . They used a 6 - cylinder engines , " Humber " ( 1,9-4,1 l, 40 ~ 80 HP). Total produced over 20 thousand such cars.

After the war the family "Superpoise" added developed in 1944 cabover version of "Q2" carrying capacity of 1.25 tons with a gasoline engine ( 2270 cm3 , 50 hp ) and a tractor-trailer "Q4" ( 80 hp ) for pulling 8 -ton trailer . In 1949 it was replaced by the second generation of " Superpoyz Mk II" with a completely different appearance with streamlined wings, combined with the hood lining , and are mounted in the headlights. They had a new 6-cylinder overhead valve engine displacement of 4140 and 4750 cm3 and a power of 85 hp and 95 respectively , as well as hydraulic brakes with vacuum booster . From 1955 on the model of "Q5" appeared six -cylinder 5 -liter diesel "Perkins" power 79 hp In 1956, a series of "Superpoise Mk III" received a more modern trim and produced until the last days of "Commer" .

However, the glory of "Commer" brought without bonnet machine. In 1948 at the London Motor Show the company introduced a new series of cabover "FC" with a lifting capacity of 6.4 tons of low- cabin location. This was achieved deploying a conventional in-line 6 - cylinder gasoline engine ( 4750 cm3 , 103 hp) under the floor of the cabin , " a half upright " position - at an angle 24 ° to the horizontal. In 1953, the "Commer" set for 7 -ton models, "QX" unusual horizontally opposed diesel "TS3" Company "Tilling Stevens", part of the concern , "Rootes" . The unusual was the fact that he worked for two -stroke cycle , had only 3 cylinder direct injection and a mechanical supercharger. Each cylinder moving two pistons is driven by a crank system rychazhnoi one crankshaft disposed in the bottom of the block. With a working volume of 3261 cm3 , he developed a power of 100 hp at 1200 rev / min (later - 109 hp) and has a low noise level. The increased weight of the engine and prevent excessive complexity is not releasing it until the mid 70 's. Since 1958, the third generation of cars "Mk III" lifting capacity of 10 tonnes produced with the wheel formula 6x2/6x4. In 1962 , a new - the fourth generation of ~ cabover trucks "FC" middle class "Mk IV" full weight up to 16 tons with a simpler Cabover .

In 1953, "Commer" offered vans and pick-up "Express" and "Cob" 400-500 kg, based at automobile chassis " Hillman Minx " ( 38-48 HP). In the early 50 's. it was added to the van , " 3/4 or G "Commer-1500" with a monocoque body with a capacity of 5.66 m3 with sliding doors, stands out for its sleek , as if inflated , forms and hooded shields bulging wheel arches . to utilize the units of mass-produced cars vehicles , including the 1.5 -liter engine from the passenger series "Mk VIIIA", 4-speed synchromesh transmission, independent front lever-spring suspension , hydraulic drum brakes.

In 1956, the lightweight model series "Superpoise" turned into a new range of vans and pickups, " 25 cwt" fourth generation capacity of 750 ~ 1500 kg, developed in conjunction with the company " Carrier " . It was the bonnet and without bonnet options with various bodies and bases, petrol and diesel engines with capacity of 50 ~ 53 hp In 1961 they were replaced by a new van polukapotnoy layout "Walkthru" carrying capacity of 1.5-3.0 m with a spacious body with side sliding doors and a diesel engine 56 hp In the early 60 's. "Commer" had all the technical prerequisites to become a leader in the field of trucks small and middle classes , but in the UK the economic crisis .

The situation took an American concern " Chrysler " (Chrysler Corporation), which began in 1964, to buy shares of the "Rootes" . V1967 , he has included in its composition of their English branch of the " Dodge " (Dodge), who began actively rename cars "Commer" to " Dodge " and standardize the production of all three companies , including " Carrier ." Methodical effort to capture the " commercial " grew in proportion repurchased • *: shares. However, in 1967, " Commercial " introduced its latest series of "Maxiload" with a new cab -over-engine capacity up to 12 tons , developed together with " Dodge " , but retained the loyalty known motor "TS3".

In 1970, "Chrysler" bought a controlling stake of the "Rootes" , turning it into a UK subsidiary . By 1973, almost all of which had survived in the production of "Commer" have become a "Dodge" . Latest cars of "Commer" saw the light in 1976, "Chrysler" was not able to keep afloat its British branch . In 1979 it was sold to the French company "Peugeot", and then transferred to the company "Renault".
Latest classic Commer cars offered in listings in the United Kingdom: