Venturi History
History

This is the history of the brand Venturi since the establishment of the company and up to the most modern of vehicles produced under this brand.
Classic Cars

We have collected the best classic cars in our catalogue. In addition, if you're going to buy one - just check the latest Venturi listings.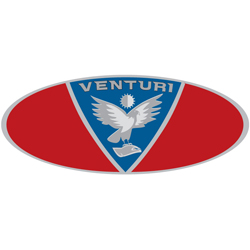 Venturi
The first Venturi was built in 1984 and created its Claude Poiraud and Gerard Godfroy, two former engineer from Heuliez. The aim was to create a French car class "Grand Tourisme", which is able to compete with the French Bugatti, Italian Ferrari and the German Porsche. The company's headquarters was located in the Couëron, Pays-de-Loire, where it was almost 750 cars in over 20 years.




Since the mid-1980s to the mid 1990s, Venturi produced coupe and rodstery with the Central location of the engine with a turbo-supercharging PRV and gearbox from Renault. The engine power was from 213 to 264 HP. (194 kW) for a series of Venturi Atlantique.



A limited edition of 400 GTR was built for racing, including the Le Mans 24 hours. Venturi was also temporarily connected with the team in Formula 1 Larrousse. The car commands 1992, which bore the name of Venturi, was designed and built the Venturi Larousse UK, the British company formerly known as Fomet 1, which has developed in 1991 cars for Fondmetal Formula One.



400 GT remains one of the most effective of the French cars ever created, and it is the first car in the world, which had a standard brake out of carbon fiber.



The high level of competition has also brought fame brand Venturi. Stéphane Ratel, who later founded the FIA GT championship, was in the beginning the Creator of the Venturi Gentlemen Drivers Trophy, who collected an impressive pool of 75 drivers. Venturi also is known for his brilliant performances in the 24 hours of Le Mans, in particular, in 1993, Christophe Dechavanne and Jacques Laffite on the team Venturi Jaccadi, and in 1995, Paul Belmondo racing to the 600-SLM.
Venturi cars, presented in our catalogue: