Marcos History
History

This is the history of the brand Marcos since the establishment of the company and up to the most modern of vehicles produced under this brand.
Classic Cars

We have collected the best classic cars in our catalogue. In addition, if you're going to buy one - just check the latest Marcos listings in the United States.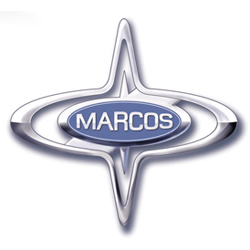 Marcos
The carmaker Marcos was founded in the city of Luton, Bedfordshire, England, in 1959 friends Jem Marsh and Frank Kostin. Kostin has previously worked at the De Havilland Mosquito, the factory fighter-bombers. From there he got the idea to use plywood for the automobile chassis and body. The company moved to a converted factory in the town of Bradford-on-Avon, Wiltshire, in 1963, and in 1971 in a specially built factory in the nearby Westbury.



Problems with the export of cars to the United States and move to the new expensive premises led to financial problems, and in 1971, Marcos went out of business. In July 1971, it was reported that Rob Walker group of companies, the primary dealer, the purchased shares and the assets and created a new company - Marcos Ltd. The new owners have reported that the production of cars will continue, though, at least during the nearest time - only for the UK market.



One Saturday in June 1972, in the press there was information from the owners of the company, it was described as "the sale of the property Marcos - prototypes warehouse dirty components, benches, instruments ...". The implication was that the owners decided to abandon the old Marcos in Westbury and move to a smaller factory.



Jem Marsh stayed in the car business, and bought back the rights to the brand Marcos in 1976. In 1981, the brand was relaunched with a coupe of Marcos V6, which was only sold in disassembled form.



Marcos broke again in 2000. Canadian businessman Tony Stelliga bought the company, and revived the production in 2002. By 2005, the majority of designers of close to bankruptcy TVR have joined the company.
Marcos cars, presented in our catalogue:
Latest classic Marcos cars offered in listings in the United States: