AC Cars History
History

This is the history of the brand AC Cars since the establishment of the company and up to the most modern of vehicles produced under this brand.
Classic Cars

We have collected the best classic cars in our catalogue. In addition, if you're going to buy one - just check the latest AC Cars listings in the United States.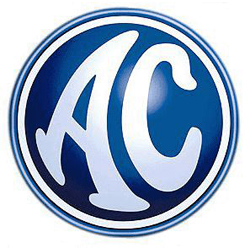 AC Cars
AC Cars Ltd is one of the first automobile companies of great Britain, which specializes in the production of by the sports car, which always stood out among the other representatives of the automobile industry of excellent dynamic and racing signs. The founders of the company AC Cars Ltd were John Weller and John Portvayn.


In September 1961, the former American race car driver Carroll Shelby (Carroll Shelby) sent firm AC Cars letter with a proposal to build a car with a V8 engine and with the changes in the design. AC Cars agreed with the condition that will be found a suitable motor. First Carroll Shelby suggested order Chevrolet, but received a refusal. Ford, wishing to create a car that could compete with the Chevrolet Corvette, proposed a new engine Ford Windsor 260 HiPo (В«High-PerformanceВ»), with a thin-walled box, which could be used in this endeavor. In January 1962 mechanics AC Cars produced a prototype of the chassis under the number CSX0001 with the engine Ford Windsor 221 V8 . After testing and fine-tuning the engine and transmission were removed, and the chassis 2 February 1962 was sent by air Shelby in Los Angeles. His team for less than eight hours on it established the engine and transmission and the beginning of road tests. So that was a legendary car AC Cobra (Shelby Cobra).


Factory production origanalnyh AC Cobra lasted until 1967. All subsequent releases - only remakes. Thus, in the 70-80s years of the cars of this brand were producing company Autocraft, which holds the right of the bankrupt AC Cars, and from the end of the 1980s, Carroll Shelby and companyShelby Automobiles, IncВ» continued to produce vehicles В«CobraВ» under the name В«Shelby Cobra FIA 289В» and В«Shelby Cobra 427 S/CВ» at its plant in Las Vegas.

In addition, the model is sold as a kit-Kara, that is, self-Assembly car.



At the auctions UK can be found as British, and American "Cobra". The prices of cars in original condition varies in the range from 20 to 100 thousand pounds. Modern kit cars you can buy cheaper.




AC Cars cars, presented in our catalogue:
Latest classic AC Cars cars offered in listings in the United States: