Panoz History
History

This is the history of the brand Panoz since the establishment of the company and up to the most modern of vehicles produced under this brand.
Classic Cars

We have collected the best classic cars in our catalogue. In addition, if you're going to buy one - just check the latest Panoz listings in the United States.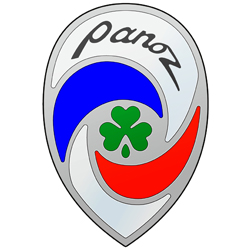 Panoz
Panoz Auto Development is an American brand of high-performance cars, founded in 1989, Dan Panoz, the son of pharmaceutical magnate and a large lumps of Motorsport don Panoz. The company is located in Braselton, GA. Products Panoz includes Panoz Roadster and AIV Roadster, as well as Panoz Esperante. All cars Panoz are going to hand in a factory in Braselton and undergo a full road test at the company-owned Panoz test tracks.



Since 1997 cars Panoz competed in the racing series around the world. Panoz modified the Esperante, to create a modification to meet the requirements of the American Le Mans series and European racing programs. In addition to the victories of Le Mans series, Esperante GTLM won the GT2 class of 2006 24 hours of Le Mans.
Panoz cars, presented in our catalogue:
Latest classic Panoz cars offered in listings in the United States: