NSU Cars History
History

This is the history of the brand NSU since the establishment of the company and up to the most modern of vehicles produced under this brand.
Classic Cars

We have collected the best classic cars in our catalogue. In addition, if you're going to buy one - just check the latest NSU listings in the United States.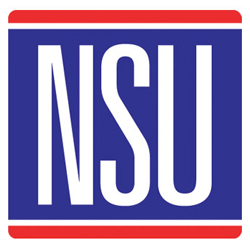 NSU
The company Neckarsulmer Radwerke was founded in 1886 and specialized in the manufacture of bicycles. Already in 1892 , the organization was restructured and renamed the NSU, and then shop the company began manufacturing motorcycles. Car production began in 1905, when it was purchased a license for the assembly of machines Belgian Pipe.

In 1906 there was the first independent model NSU - 6/10PS, developed on the basis of previously produced machines Pipe. These cars were equipped with four -cylinder 1.5 -liter engines , developed by Otto Pfander . Were issued and several more powerful cars with an engine capacity of about 2.6 liters .

In 1909 the band released quite a small car , equipped with a 2 -cylinder engine capacity of 1.1 liters . But this did not become popular compact car . In 1911 he was presented with a four-cylinder engine , which amounts to 1.1 liters , but with time it increased to one and a half liters. This model was produced for only two years . And in 1913 he was presented the most powerful and a great car all of the pre-war models. This machine is equipped with a 4 - cylinder engine capacity of 3.4 liters . At the same time there was also a midget model NSU 5/15PS with a motor, which amounts to 1.2 liters . Due to the constant growth of popularity of this car remained in production until 1926.

After the end of World War II model was released 5/25/40PS, equipped with an engine capacity of 1.3 liters . This engine has a volume blower Roots, was soon completed and received a volume of 1.5 liters . The machine with the power unit could reach speeds up to 129 km / h. The powerful engine began to install and sports versions of the model that successfully participated in various races. It is on the basis of race NSU 5/25/40PS later was developed lightweight car with an engine capacity of 1.6 liters, which had ear flaps . In general , the models of the 1920s were equipped with four - cylinder engines , which amounted to 2.1 and 3.6 liters . Only one motor vehicle equipped with a 6- cylinder engine with its volume of 1.8 liters .

In 1927 the company moved in Heilbronn , but just a couple of years of financial problems that led to the sale of the plant concern FIAT. At the same old factory in Neckarsulm NSU car production resumed in 1934 , when it was released three cars, designed by Ferdinand Porsche. These models are later used to create some cars Volkswagen. After the release of these machines, the production was again halted.

The plant in Neckarsulm earned in full force only in 1958. Then the model was released Prinz - a compact car with a 2 -cylinder engine capacity of 0.6 liters , which was located at the back. Motor supplied with overhead camshaft and side flaps . Mounted on the Prinz- 600 coupe with a body Bertone, this engine was showing power of 30 horsepower. Produced and sports variants of this model , which was several times more powerful car.

At the turn of 1960-1970 's performed well in the competition model Prinz- 1000 , which was soon modified into a car Prinz- 1200TT , equipped with a 4- cylinder engine with a capacity of 65 "horses" . The next version of the car Prinz TTS had been in power 70 horsepower. These models form the basis for the production of Zaporozhets ZAZ -966 second generation.

In 1963 he was presented NSU Spider, which was the first machine in the world , equipped with a rotary-piston engine. The engine capacity of 50 "horses" developed by Felix Wankel . It was a single-section engine cylinder capacity of 0.5 liters

.
In 1967, the production of single-section engine was discontinued , and at the same time presented a model of Ro -80 with a two- engine , developed by the same Felix Wankel . Motor have two combustion chambers , each of which had a volume of 0.5 liters . The car was also equipped with a semi-automatic gearbox with torque converter , lever- spring independent suspension on all wheels and disc brakes on all wheels as with the vacuum booster.

Machine with a capacity of 115 hp can reach speeds of up to 180i km / h Average fuel consumption of around 14 liters per 100 kilometers. The front-drive car NSU Ro -80 was the most famous among all the models of the company through the body of the " sports sedan " that his style has attracted the attention of many automakers. But over time it became clear that the rotary engine has certain shortcomings, which, combined with other failures ruined the reputation of a modern and extremely stylish cars . As a result, the company NSU has faced serious problems.

And in 1969 it merged with NSU company Audi, whereby a company Audi-NSU-Auto Union AG, which entered the concern Volkswagen. A little later released sedan model NSU K- 70 on the basis of Ro -80 , equipped with a conventional engine . In 1977 NSU brand ceased to exist - shop of fully switched to the production of Audi and Volkswagen.
Latest classic NSU cars offered in listings in the United States: