Diamond T Trucks History
History

This is the history of the brand Diamond T since the establishment of the company and up to the most modern of vehicles produced under this brand.
Classic Cars

We have collected the best classic cars in our catalogue. In addition, if you're going to buy one - just check the latest Diamond T listings in the United States.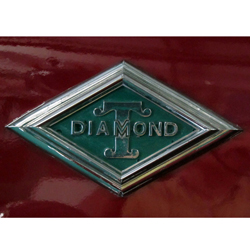 Diamond T
Diamond T company in Chicago in 1905 , he founded the Charles Arthur Tilt. Diamond translated to English means diamond , diamond , and the letter T - this is the first letter of the surname of the founder of the company. Thus was born the famous company and brand Diamond T Motor Car Co.

1911

The company introduced its first 1.5 -ton truck. He received a 7- liter engine with 40 hp Continental , 3- speed gearbox , chain drive to the rear wheels fusion tires. Fundamentally changing this structure , the following year introduced Tilt 5- ton car , but the next track and 1- ton 27- strong model of «I» equipped with shaft drive and a new gearbox with moving gears .

1914

Appeared 1.5 -ton truck models «J» Worm main gear . It was followed by the machine capacity of 3 and 5 tons with a chain drive and a multi-plate clutch running in an oil bath.


 
1916

In the southwest side of Chicago came into operation a new plant area of ​​23,000 m2 with a rare at the time assembly line . This allowed for the first two years to introduce in series production of several low-cost models , as well as to collect 1,500 army trucks «Liberty».

The changed after the First World War, the economic situation has forced Diamond T shift to reliable and simple farm trucks . Fundamental to the program was the 1.5 -ton «Farm Special» with a short and narrow body, carbureted engine and final drive worm .

In the early 20's range has expanded to models with a payload of 1.5 tons, which is widely used machines from other manufacturers. By this time the experiments in the creation of so-called " spring-loaded wheels" with a massive tire and inner resilient rubber inserts . Coming soon pneumatic tires quickly supplanted these complex and expensive construction. The first half of the 20s include the use of 4- cylinder engines Hinkley, drive axles with floating axle shafts , closed on three rubber cab mounts , front bumper, ospitsovannyh steel wheels , distinctive ribbed radiator grille .

1923

The program consisted of eight models of trucks with capacity from 1 to 5 tons. A light 26 -strong car "75" first appeared the engine Hercules, for many years to become a major powertrain vehicles Diamond T.

In the second half of the 20's trend growth capacity and power began to be used a 6- cylinder engine with a 7- bearing crankshaft , multi-disc clutch , 4- speed manual , the main gear with conical gearing , drum brakes on all wheels hydraulic , electric lighting.

1928

Has its first three -axle vehicle carrying capacity of 4 tons . In the external design of the entire gamut began extensive use of chrome parts - the radiator grille , bumper and cab steps , body lights, sound signals and tail lights . All this for one in 1928 provided a sales growth of 60%.

1929

The program has expanded - from 1- ton pickups , " 151 " to the 3- axle crane " 1600 " with capacity of 8 to 12 tons , which were used mainly 6- cylinder engines Hercules power up to 98 hp Some cars were equipped with heavy 7- speed gearbox and brakes with hydraulic and vacuum booster .

1930

Starting this year, the company offered an even wider range of trucks from the 1- ton model "200" with a 4- cylinder engine in the 45 hp Buda to heavy-duty trucks with engines Hercules capacity from 118 to 157 hp Some models are equipped with a 5-speed manual transmission and two -speed main gear .

By the early 30's cars have new all-metal enclosure with a volume wings and V-shaped windshield , hood supplied with ample ventilation slots with shutters .

1933

Diamond T first company in the world used by truck springs of variable stiffness .

1934

The model number of the company has its first 110 -horsepower cabover truck in a tank capacity of 5.7 m3 for transportation of petroleum products. It appeared original part - the speaker in the cab , which allowed him to listen to the work of the power unit and at the hearing to determine the right time switch unsynchronized transmissions.

1935

On the whole range of capacity from 1.5 to 12 tons of used inline 6- cylinder engines Hercules Series «Super Service» with engine blocks made ​​of aluminum alloy.

1936

Lineup of trucks includes 13 basic models (from " 212A " to «512DR») carrying capacity of 1.5-6.5 tons , equipped with only a 6- cylinder engines Hercules capacity from 63 to 118 hp

1938
Lineup of trucks has grown to 24 models by introducing 1- ton 60- strong all-metal pickup " 201 " cabover family of 8 models (from " 401 " to " 804 ") capacity from 1.5 to 5 tons and two cars " 513 " and " 615 " with capacity of 1.5 and 4 tons of diesel Hercules in 77 and 84 hp All vehicles are equipped with gearboxes or Warner Clark, bridges Eaton, Timken or Wisconsin and other purchase- nodes. To the original decisions of the period should include a 16- inch wheel city delivery van model "80" with a payload of 750 kilograms ( all the rest - to 20- inch ) and heavy-duty truck cab with a sleeper . Once again, change the appearance of all the machines very similar to high-speed streamlined locomotives of the time.

On most models, established a convex tail and a V- shaped radiator grille , stainless steel housing headlights in the form of a falling drop , deflected by 30o back windshield , vans equipped with a sleek rear wings with removable shields. In the performance «Deluxe» offers an abundance of chrome decorative details , the steering wheel in the form of a banjo clock and cigarette lighter. At the time, this style is a mixed opinion, though the artistic perception of the Diamond T trucks were recognized among the most beautiful in America, which attracted the attention of others and buyers. The final challenge to competitors before the United States entered World War II was the announcement by Diamond T unprecedented long warranty on all their products - 1 year or 160,000 miles.

During the war the company became famous for its heavy 3- axial, military trucks and tractors . Baseline were 4- ton flatbed cars " 967 ", " 968 " and " 968A » (6x6) with engines ranging from 98 to 106 hp On this basis, issued emergency evacuation vehicles " 969 ", pontonovozy " 970 " and dump " 972 ". Of particular prominence acquired 12 -ton ballast tractors Diamond T- 980 and " 981 » (6x4) for pulling 45 -ton trailers. They are completed with in-line 6 -cylinder 4 -stroke diesel engine Hercules DFXE- 893 of 185 hp , the basic 4-speed and an additional 3 -speed gearbox . They formed the basis of YAZ- 210 truck , but as the power unit for them chose a simple two -stroke diesel engines . Total Diamond T produced 37,800 military wheeled vehicles .

1944

Diamond T has received permission to start production of civilian trucks, developed long before the war . First, the program included 2-D and 3- Axis series " 404N ", " 509 ", " 614N ", " 802 ", " 806N ", " 900 " and " 910 " with petrol and diesel engines from 77 to 150 hp . with .

1947

This year, added the model " 201 ", " 306 ", "703" , "809 " and " 901 " and made an extensive program of machines with full weight from 3.6 to 16.3 tons. Despite the hard times , in 1947-48 the company failed twice exceed the level of production of 10 thousand cars. Its entire policy in the postwar decade defined Charles Arthur Tilt , chairman of the board of directors, is also engaged in the overall design of the program. On the basis of a pickup truck , " 201 ", he has created a promising combi wagon with exterior wood trim .

1949

Charles Arthur Tilt introduced its latest light truck series "222" .

1951

The company refused to release vehicles carrying capacity of less than 3 tons , as well as from the annual model change . The program began 50's consisted of heavy machinery " 660 ", " 720 ", " 722 ", " 920 ", " 921 ", " 950 " and " 951 ", which were used Buda or Cummins diesel engines ranging from 280 to 300 hp At some were comfortable enough to use the new International Harvester Company cabin with curved windscreen and recessed instrument panel , synchronized transmission , power steering .

1953

There is a new cabover model " 723S " with rounded shapes has been awarded the " National Award " for the design, which until then did not seek any truck. Soon there were car series " 831 " with a 256- horsepower engine , running on LPG , the 300- horsepower diesel version of the " 911S " flip- cab -over-engine truck and construction « 931 » (6x4) with a 335 -horsepower Cummins. All these achievements did not match the commercial success , and by the mid 50's annual production declined to 5.3 million cars, and by 1961 - and 1800 chassis.

1954

To exit from the crisis situation Diamond T Corporation entered into an agreement with International Harvester.

1958

White has owned the company by the time the company acquired the firm REO Diamond T.

1960

White Company takes all the production from Chicago to Lansing . Despite formal independence, cars of all three firms have become increasingly resemble each other , using the same cab and aggregates.

1961

Was presented universal chassis " 931S " with high fold-up Cabover REO company with two trapezoidal cut-outs of each other.

1963

The last truck in -house development was the Diamond T- 990, as well as the company launched a new heavy family , which included two bonnet truck «P2000D» and «P3000D» Cab International Series «R».

1965

In addition to the seven petrol and diesel powertrains eight English used a 6- cylinder diesel Perkins. All subsequent cars of this brand were only three combinations of units of the combined companies .

1966

When the chassis was manufactured 4000 Diamond T, came to light last truck of the brand : the company White decided to further inexpedient contain two of its not-so- profitable branch .

1967

In May, the company Diamond T and REO were combined into a group Diamond REO. All in all, it was released approximately 250,000 trucks Diamond T.
Latest classic Diamond T cars offered in listings in the United States: