Alfa Romeo History
History

This is the history of the brand Alfa Romeo since the establishment of the company and up to the most modern of vehicles produced under this brand.
Classic Cars

We have collected the best classic cars in our catalogue. In addition, if you're going to buy one - just check the latest Alfa Romeo listings in the United States.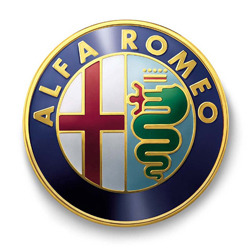 Alfa Romeo
Alfa Romeo Automobiles S.p.A., sometimes just called "Alfa", the Italian car manufacturer. Founded as A.L.F.A. (Anonima Lombarda Fabbrica Automobili) in June, 1910 in Milan, the company began to participate in car racing since 1911 and immediately gained a reputation as a manufacturer of expensive sports cars. The owner of the factory was the Italian state Corporation Istituto per la Ricostruzione Industriale from 1932 until 1986, after which the factory became part of a group of Fiat.



The first produced by the vehicle was called 1910 24 HP, designed by Giuseppe Merosi. A.L.F.A. with this model began to participate in the races, the racers Franchini and Ronzoni competed in 1911 by the two 24 HP. In August 1915 the company came under the control of Naples employer Nicola Romeo, who translated the factory on the production of military technology and equipment. In 1920 the name of the company was changed to Alfa Romeo and model Torpedo 20-30 HP became the first machine with this name on the nameplate.



With the departure of Nicola Romeo in 1928 alpha lost defence of the contract and on the factory started having problems. But already in 1932, the company Alfa Romeo saves the government of Benito Mussolini.


After the Second World War the company cuts for the mass market of small cars. In 1954, the company presents the classic engine from Alfa Romeo Twin Cam, which will be made prior to 1995. During the 60s and 70s years of the Alfa Romeo produces a large number of expensive sports cars, but despite this the Italian government, wanting to get a sufficient profit, the company sells a group Fiat in the year 1986.



Alfa Romeo participates in a number of competitions in Motorsport, in particular in the Grand Prix motor racing, Formula 1, racing sports cars, touring and rally. The first victory in the race Grand Prix cars Alfa won in 1925. The company had earned a name in the sport and this left its imprint on all cars of this brand. Enzo Ferrari founded his own racing team Scuderia Ferrari in 1929 it as a "Alfa Romeo", before becoming an independent team in 1939.
Alfa Romeo cars, presented in our catalogue:
Latest classic Alfa Romeo cars offered in listings in the United States: