Rambler Cars History
History

This is the history of the brand Rambler since the establishment of the company and up to the most modern of vehicles produced under this brand.
Classic Cars

We have collected the best classic cars in our catalogue. In addition, if you're going to buy one - just check the latest Rambler listings in Australia.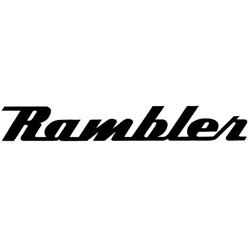 Rambler
The first car "Rambler" built in 1900 by Thomas B. Jeffery (Thomas B. Jeffery), which under this title previously produced bicycles. In 1901, Jeffrey founded in Kenosha in Wisconsin, a small car production . His double carriages with single-cylinder engines were light and economical, very popular . Over time, as the new "Rambler" have become more solid , they have a 4 - cylinder engines and sophisticated equipment , their sales declined markedly . By innovations that "Rambler" first introduced among U.S. automobile manufacturers , quick- treated spare tire ( 1909 ) , lockable fuel filler tube and cup holders (1911).

Since 1914 the brand of cars, "Rambler" abolished, and their descendants became known as "Jeffrey." In 1917 it was bought by American Motors Corporation, abbreviated as AMC. 2 years later the share of "Rambler" accounted for 75 % of all sales of this group. In 1958, all cars were AMC carry the brand "Rambler".

Since that time, the prestige and the volume of production grew steadily AMC. In 1958 was launched the updated two-door sedan "Rambler American", who was expelled from the program in 1956. Demand for it has surpassed all expectations, and by the end of the 50s AMC has become quite a large manufacturer of cars in the United States. In 1959, the annual overseas production exceeded 400,000 vehicles. In 60 years on models "Rambler" there were many technical innovations, the most important of which are considered dual-circuit hydraulic brake system and disc brakes. Despite this, little by little demand for the model "Rambler" began to decline, and in 1971 , the leadership of the AMC has decided to abandon the brand.
Latest classic Rambler cars offered in listings in Australia: